Grand Wagoneer | Exterior
The Pursuit of Aesthetic Perfection
The All-New Wagoneer and Grand Wagoneer are the result of a daring vision and a commitment to an enduring legacy. Mixing audacity and restraint, this is a watershed moment in automotive design.
The Height of Exterior Design
Defining Light That Leads the Way
Front LED Lighting
Signature LED headlamps combine technical advancements with striking style. An integrated electronic headlamp motor turns the light so it follows the twists and turns of the road ahead, offering light precisely where it's needed.
Inspiration can be found Anywhere
Premium Exterior Design
From every angle, the Grand Wagoneer exudes elegance and inspires with sweeping lines and sloping contours, reminiscent of the natural movement found in the rolling hills and grand vistas of the western frontier.
Dimensional Detail
22-inch Aluminum Wheels
A mix of elegance, attitude, and style, available 22-inch aluminum wheels are designed to stand out in any environment.
Refined Composition, Sophisticated Colour Scheme
Premium Colour-Tinted Glass
Equal parts form and function, the available premium colour-tinted glass provides a combination of privacy, UV protection and seamless exterior style.
A Clear and Stylized Message
Rear LED Lighting
At a distance, rear multi-element LED lights glow in the night like a beacon. Upon closer view, their intricate design bookends a bold liftgate badge, using the dark to create a striking vision.
An Exterior Designed with Purpose
Bright White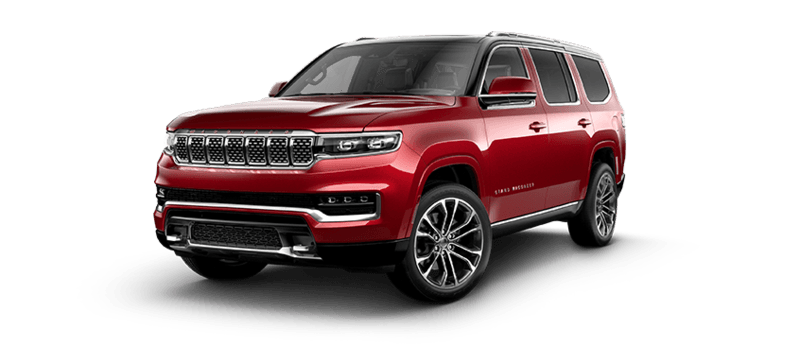 Velvet Red Pearl
Diamond Black Crystal Pearl
Silver Zynith
Baltic Grey Metallic